Sometimes you may be concerned that the Debtor is unable to pay. Other times you may believe that they are deliberately withholding payment.
The Statutory Demand is very effective in dealing with the latter category. This is a demand served on a company or individual which, if not responded to within 21 days, entitles you to issue a Winding Up Petition (against a company) or a Bankruptcy Petition (against an individual).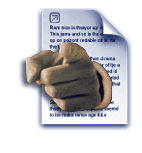 The Statutory Demand is a serious step to take against a debtor, which does tend to be effective in bringing matters to a head, and often procuring payment in the shortest period of time.
The risk for the debtor if they do not respond is that they will be wound up, or made bankrupt, at risk of losing everything.
Please note that unlike a Claim Form and judgment, the costs of a Statutory Demand are not automatically recoverable from the debtor (but may be if you proceed to bankruptcy or winding up).
You should also note that the cost of issuing a bankruptcy petition or winding up petition (including court fee and deposit to the Official Receiver) is substantial, and even in a straightforward action is likely to cost you about £1,500 (bankruptcy) or £2,000 (winding up). This is maninly due to the high level of deposit required by the Official Receiver. Your costs are however generally recoverable if you succeed (and if the debtor has assets).
Individuals served with a Statutory Demand may apply to the Court to have the Demand set aside (if there is a genuine dispute as to the debt). If the application to set aside is successful a costs order could be made against you by the Court. No such procedure is available to a company, but a company can seek an injunction to prevent you from proceeding with a winding up petition (and again costs could be awarded against you if they are successful).