Once you have issued a claim the system will automatically notify you when you are entitled to enter judgment.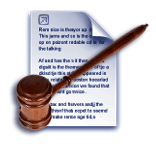 You can log on at any time after this date and apply for judgment against the Debtor. Once again our charges are limited to the fixed costs recoverable from the debtor.
The costs of both the claim and the judgment are added to the debt and are recoverable from the Debtor.
Once we receive judgment from the court this will be emailed to you, together with advice on enforcement options.