Once judgment has been entered by the Court, you are entitled to enforce the judgment against the Defendant. You may however wish to write to the debtor first. The System will allow you to instruct the Bailiff (for judgments up to £5,000) or the Sheriff (for judgments over £5,000). For judgments between £600 and £5,000 you have the choice of bailiff or Sheriff; judgments below £600 can only be executed by the court bailiff.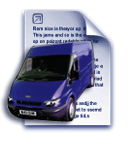 Please note that the debtor's goods will only be seized by the Bailiff or Sheriff if they have sufficient value (when sold at auction) to cover the costs and the debt. You should only incur this cost if you believe the debtor has sufficient assets to be worth pursuing.
Court fees (but not all legal costs) are added to the debt and recoverable from the debtor.